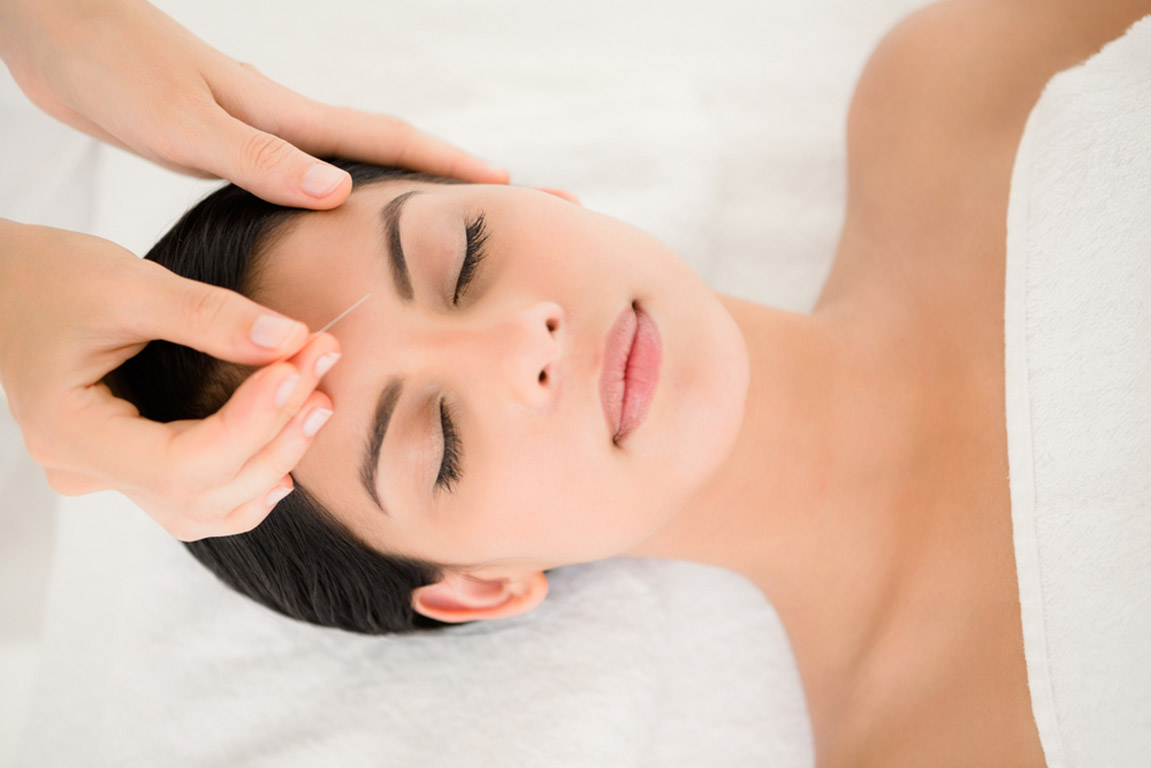 Cosmetic Acupuncture
Facial and cosmetic acupuncture treatments in Reading
Facial acupuncture is an incredibly popular and effective treatment for wrinkles and other signs of aging. Facial acupuncture may be right for you if you're looking for a non-invasive, natural way to achieve younger-looking skin.
Facial acupuncture has been an alternative therapy for centuries to promote healing and rejuvenation. The practice involves the insertion of very thin needles into specific points on the face. This stimulation of the facial nerves is said to improve blood flow and help to reduce wrinkles, fine lines, and other signs of aging.
Does Facial Acupuncture Work?
Facial acupuncture treatments have been used for centuries in Traditional Chinese Medicine as a way to treat a variety of skin conditions. And unlike injectable procedures, facial acupuncture can address not only signs of aging but also the skin's overall health.
Facial acupuncture works internally to optimize your health while enhancing your skin's appearance. This is because when your overall health is improved, it shows on your skin.
Various benefits have been associated with facial acupuncture, such as improved circulation, reduced inflammation, and increased collagen production. These benefits can help to improve the appearance of fine lines and wrinkles, give the skin a more radiant complexion, and even help to clear up acne.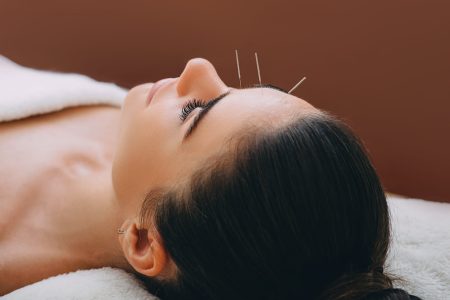 Facial Vs. Cosmetic Acupuncture Treatments
Facial acupuncture simply refers to acupuncture done on the face but not necessarily for cosmetic purposes. For example, facial acupuncture points can help with various conditions such as anxiety, jaw tension, headaches, allergies, and stomach issues.
On the other hand, cosmetic acupuncture focuses specifically on improving one's appearance. This type of acupuncture uses both body and facial acupuncture points to treat the underlying imbalance of physiological conditions that may be causing an undesirable appearance.
How Long Does Facial Acupuncture Last?
The results of facial acupuncture vary from person to person. Generally, however, the effects of facial acupuncture can last for several years. Some people may even see semi-permanent results after completing a course of treatment.
Maintenance is key to keeping your results. Depending on the individual, follow-up visits may be recommended every four to six weeks, then every three to four months, and eventually once or twice a year.
Is Facial Acupuncture Better Than Botox?
Facial acupuncture is a minimally invasive, alternative therapy that has been used for centuries to help reduce the signs of aging. Unlike Botox injections which can leave you with a frozen, expressionless face, facial acupuncture uses fine needles placed along specific points on the face to help improve circulation and stimulate collagen production.
It can help improve the appearance of wrinkles, fine lines, and sagging skin and even help with conditions like acne and rosacea. It is a safe and effective treatment for those looking for an alternative to Botox or surgery.
Also, the results of facial acupuncture are not just skin deep. The benefits of this therapy go beyond the physical, helping to improve your overall sense of wellbeing.
Does Facial Acupuncture Get Rid Of Wrinkles?
Yes, cosmetic acupuncture can help to erase wrinkles from your face. Also, it can help to reduce the appearance of fine lines and wrinkles by up to 15 years. The results are usually apparent after a course of treatments. It can also help to firm jowls, reduce bags under the eyes, eliminate puffiness, and lift droopy eyelids. It can also help to minimize double chins.
Be sure to consult a licensed acupuncturist to ensure the treatment is administered properly and safely. Regular maintenance treatments can keep your skin looking its best for years to come.
About Karolina
I have completed specialised training with Facial Enhance in fine skin needling and anti-acing techniques. For more information about Facial Enhance UK you can visit their website.
I am also a member of Cosmetic Acupuncture UK (CAUK).
What is cosmetic acupuncture?
​A specialised program of Acupuncture treatments, targeted at facial rejuvenation through precise Acupuncture sessions. The techniques used are safe and gentle, and may help your body to soften lines, lift sagging areas, increase firmness, and promote circulation to boost the production of collagen and elastin resulting in bright, even, glowing, more youthful skin. Additionally by improving digestion and relaxation onward benefits are often seen in terms of complexion.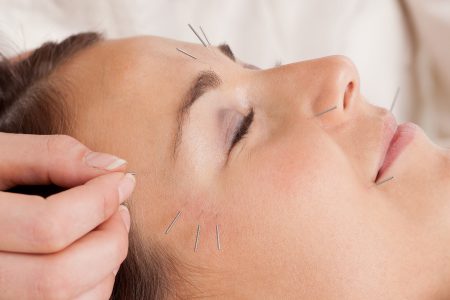 How does my cosmetic acupuncture treatment work?
Your treatment will be tailored to your individual needs, to target your face, your skin and your concerns. Sterile, ultra-fine are gently inserted at specific Acupuncture points to increase blood flow to your face, and retained for up to twenty minutes. Three needling styles are used during the Cosmetic Acupuncture.
Firstly, needles are used to produce micro-traumas along wrinkles and lines, and around scarring and pitting. Micro-trauma needling is most effective when done multiple times during the cells 28 day renewal cycle, which is why  Cosmetic Acupuncture Program includes twice weekly treatments over the full calendar month. Each time a micro-trauma occurs to the dermis, fibroblast cells produce collagen and elastin (the building blocks of youthful skin).
Secondly, in addition to the micro-trauma technique, I also needle precise muscular or 'motor' points in the face. Motor points are needled to lift and tone muscles in the face, great for sagging necks, jowls, and to lift and tighten the brow.
Thirdly, Cosmetic treatments include a whole-body treatment, exactly the same as our regular Acupuncture treatments.  Super-fine needles are used on body points such as the hands, feet and ears to address underlying health issues that may be contributing to problem areas on your face. I find this three step program to be the most inclusive and effective way to produce outstanding results with Cosmetic Acupuncture. A  refreshing cleanse is followed by application of facial needles and ends with facial massage.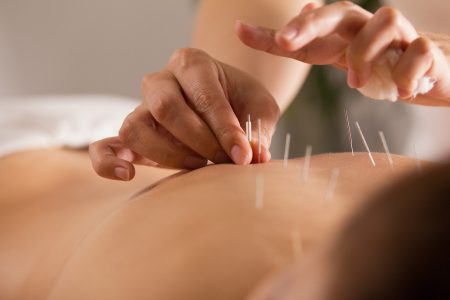 Research on cosmetic acupuncture
– A 1996 report in the International Journal of Clinical Acupuncture reported that among 300 cases treated in China with cosmetic facial acupuncture 90% had marked effects with one course of treatment. Effects included: increased elasticity, reduction of wrinkles and overall rejuvenation and positive results reflected throughout their body.
– A 2013 issue of the Journal of Evidence-Based Complementary & Alternative Medicine regarding "the effect of facial cosmetic acupuncture on facial elasticity" – concluded that the treatment showed – "promising results as a therapy for facial elasticity".
What results can I expect?
Cosmetic Acupuncture works to naturally bring back long-lasting, radiant, youthful skin whilst aiming to lift and firm areas without surgery, injections or side effects. There are no incisions, injections, sutures or peels required. This results in the stimulation of muscle activity, collagen growth and nutrient rich blood flow without the nasty side effects.
Since Cosmetic Acupuncture uses only your body's own healing systems, results cannot be guaranteed but visible results can be seen just after one treatment, for longer lasting results the course of treatment is recommended.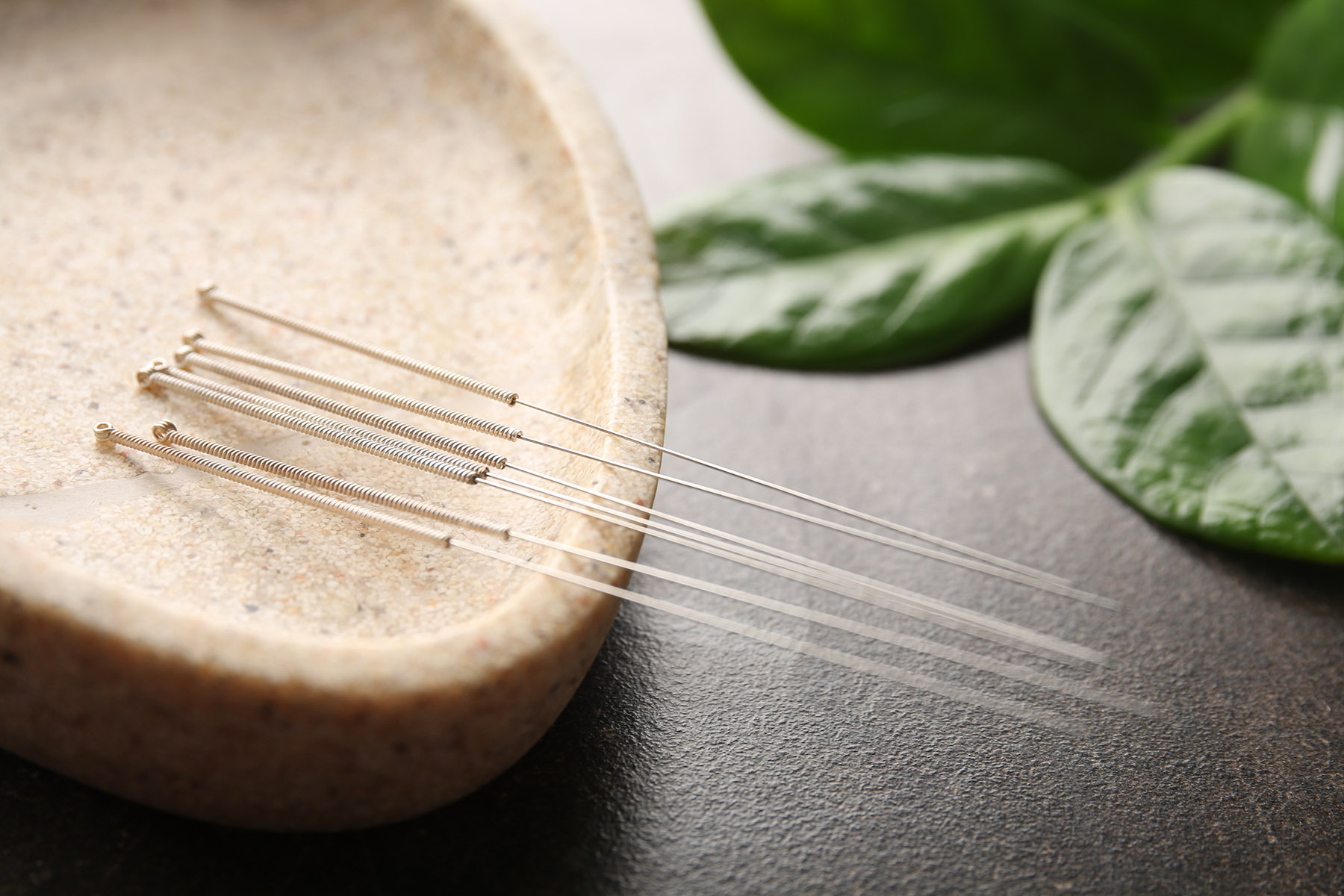 Why choose cosmetic acupuncture over other cosmetic treatments, such as derma-needling or injectables?
Cosmetic Acupuncture is completely different to other cosmetic treatments. Derma-Needling (Skin needling, Needle-rolling etc.) works very superficially on the skin and is quite similar in nature to exfoliation. Acupuncture penetrates much deeper, re-training your muscles and helping your skin to renew from the inside out. This is why our treatments can produce such strong results.
Rather than muscle relaxers which commonly use neurotoxins to paralyse facial muscles, or fillers which stretch the skin using synthetic substances, Cosmetic Acupuncture offers a completely safe, natural and pain-free alternative to naturally healthy, more youthful skin and a glowing, radiating complexion without the expense, downtime and artificial 'look' of injectables.
Single Treatment- £80 ( without Celluma LED therapy)
Cosmetic Acupuncture Program:
£600 for 8 treatments (saving £40)
£900 for 12 treatments (saving £60)
This is block of treatments that gives you 1 or 2 treatments per week (facial and body) each treatment takes between 1.5 to 2 hours. This treatment have to be paid in full and appointments booked in advance.
Watch Facial Acupuncture performed at my local clinic in Caversham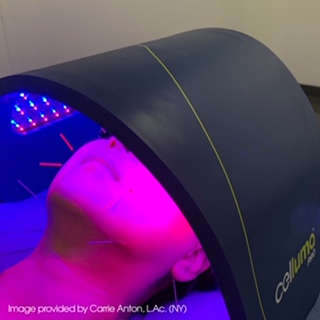 Celluma light therapy.
Celluma is an award-winning light therapy. Celluma light therapy works safely and effectively, without abrasive chemicals, harmful UV-rays or side effects, to destroy acne-causing bacteria-not only clearing up existing blemishes, but preventing future breakouts before they happen.
In an observational study using Celluma to treat facial wrinkles; 80% of participants said that they experienced an improvement in skin texture, 77% reported an improvement in skin firmness and 66% reported an improvement in facial wrinkles after only 4 weeks.
Celluma LED Facial (without acupuncture)
30 min | £40
This treatment is safe, effective, non-toxic, non-invasive. You can reduce the appearance of fine lines and wrinkles with Celluma low-level light therapy, using wavelengths that are scientifically proven to stimulate fibroblasts to increase collagen and elastin.
For best results a course of 6-8 sessions (twice weekly) is recommended for best results.
Celluma LED with Facial massage
1h | £60
This treatment includes 30min treatment with LED light and after facial, using natural skin products with massage, cupping and Jade roller.
Celluma Facial with Acupuncture
1.5h | £100
Stimulate natural collage production with facial acupuncture, using ultra thin needles. Treatment includes body acupuncture to address underlying health complaints, facial acupuncture and relaxing collagen-boosting LED facial, facial massage.
You can add Celluma Light therapy to any acupuncture treatment for additional cost of £20.
Please contact me for more information.